Minimalistic clean white gaming setups look dope! But it's not finished without a nice white gaming chair. And this is where the hard part starts. Finding a good white gaming chair is REALLY hard. I couldn't believe it's that hard before I started doing the research. Most of the manufacturers make mostly black plus custom color gaming chairs. And most of them are really awesome. But most of the time they don't fit the setup design or the budget which for some people is more important than the look.
We've spent countless hours on finding great white gaming chairs that would not only be, well, white but would also be comfortable for sitting long hours and would last long.  It was hard, but we made it! We don't know what are the exact criteria you have for a gaming chair, so here are a couple of top picks that we think are the best white gaming chairs:
Now let's take a quick look at other white gaming chairs. In case you're looking for white + custom color, these might be interesting to you:
1. Homall Gaming Chair – Best White Gaming Chair for All White Gaming Setup
This is our number one pick. And it's due to obvious reasons: just look at the design! It's THE best all white gaming chair that we could find for a reasonable price that would also have all the features that make a gaming chair a gaming chair.
It's made of high density shaping foam that makes your gaming experience insanely comfortable. 1.8mm thick steel frame ensures the durability and reliability. Even for fat guys (up to 300 lbs).
Skin-friendly PU leather feels good to touch and sit on.
It's an awesome white gaming chair and we definitely recommend it.
2.
Yamasoro White Gaming Chair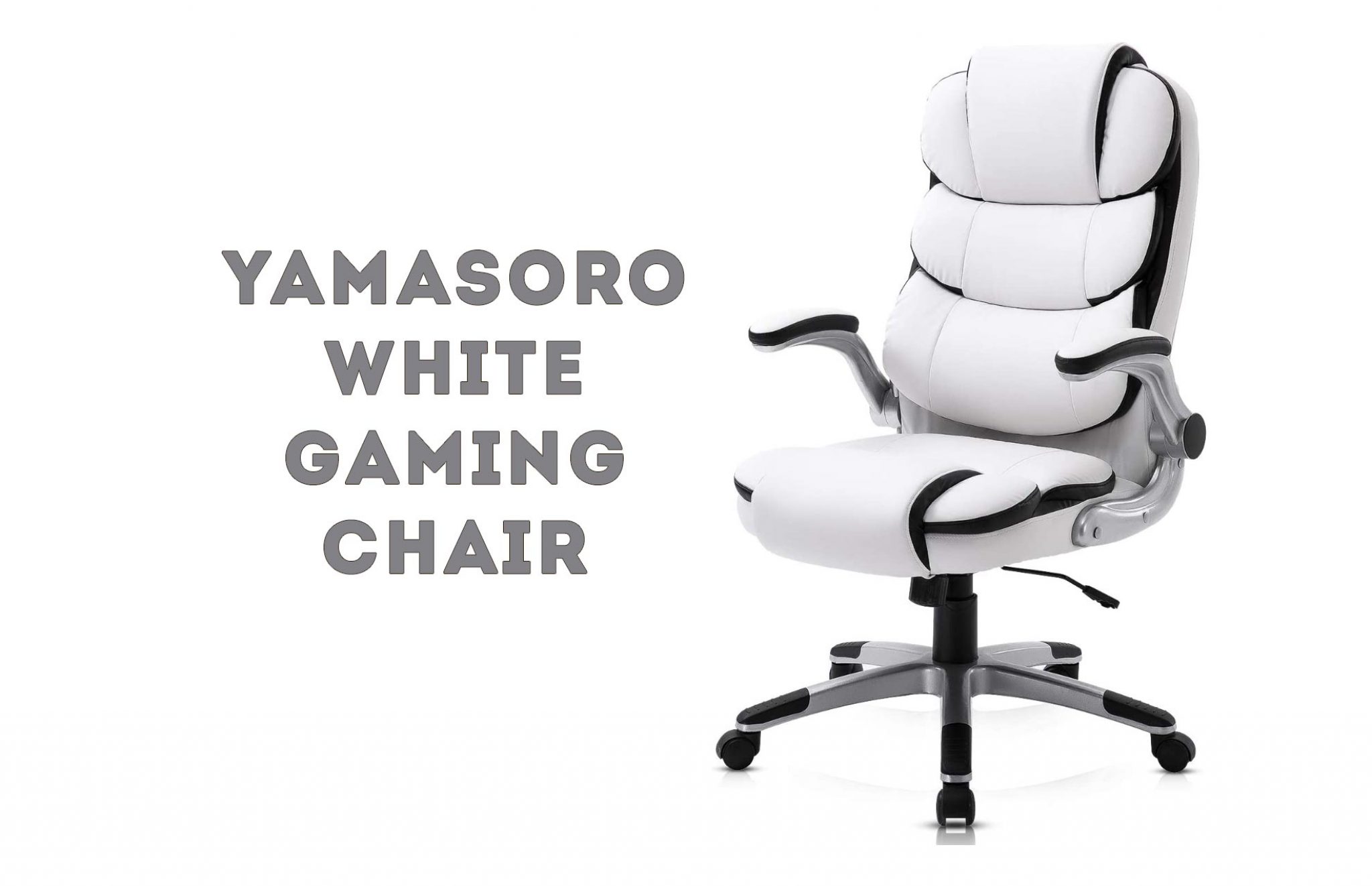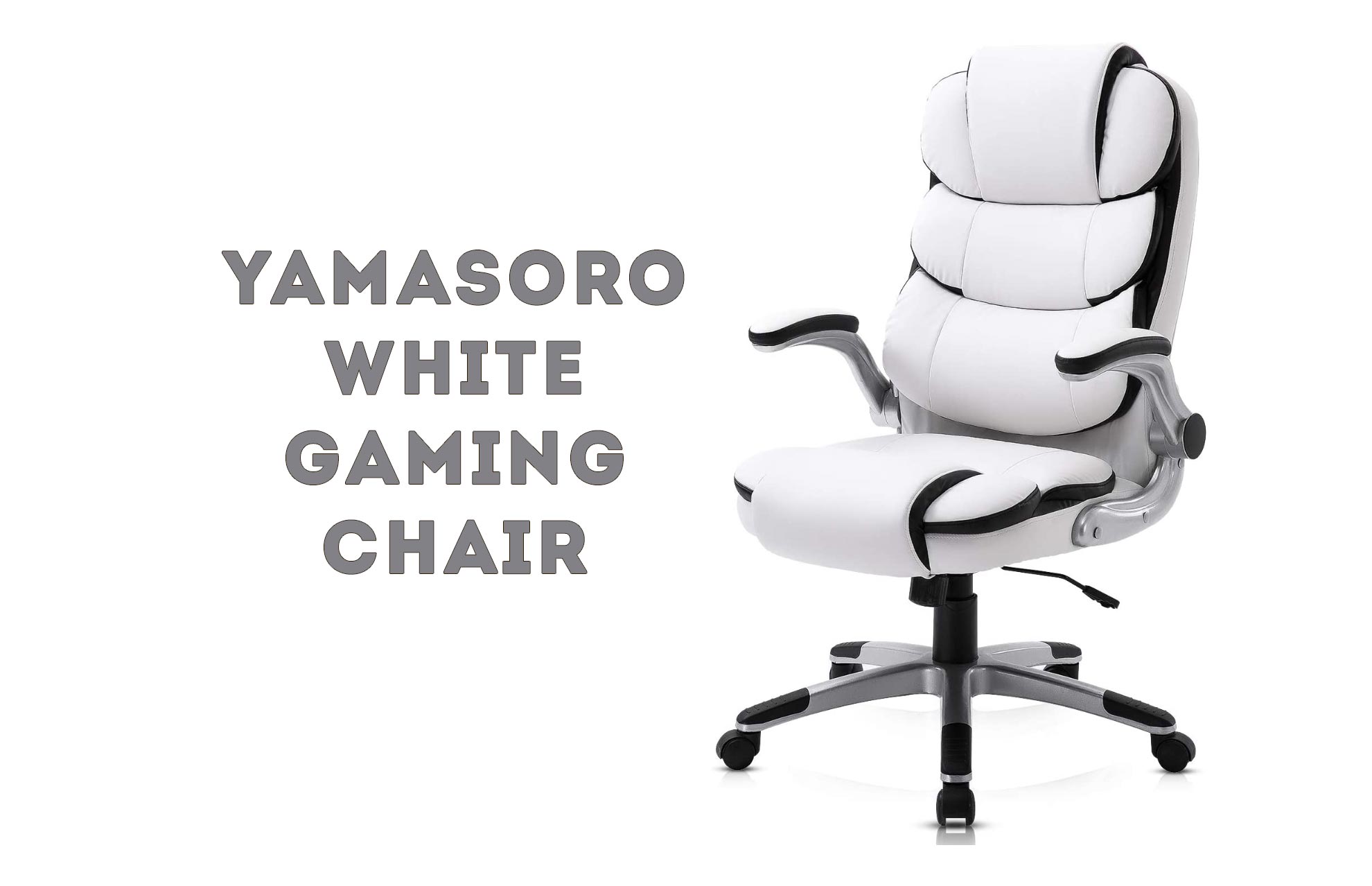 The second item on our list of the best white gaming chairs is an outstanding piece of furniture from Yamasoro. It's not necessarily a gaming chair but the design, materials and the price will convince you that it's a great choice for a casual gamer.
You may also want to consider this cheaper alternative:
3. Goplus White Gaming Chair With Led Lights
Not exactly a *white* gaming chair, but it still should fit an all-white gaming setup. It checks all the points in the "best gaming chair" checklist and looks super dope with those led lights. Here's how it looks like in real life (we have a black chair but it looks the same on white ones):
As you can see, the chair is aesthetically pleasing to the eye. One of the things that sets this chair apart from other competitors is the fact that all of its components were designed in a unique way, providing a custom and elegant design that you can not find anywhere else. It also features a recline mechanism that allows you to rest. The fact that this chair was designed specifically for gamers means that they have put a lot of thought in it. The padding is made from high-density resilient sponge and provides a comfortable experience for long hours gaming sessions.
And of course, the led lights. The edge of the chair has led stripe and you can change the color to whatever you like.
4.
Dowinx – Best

White Gaming Chair With Footrest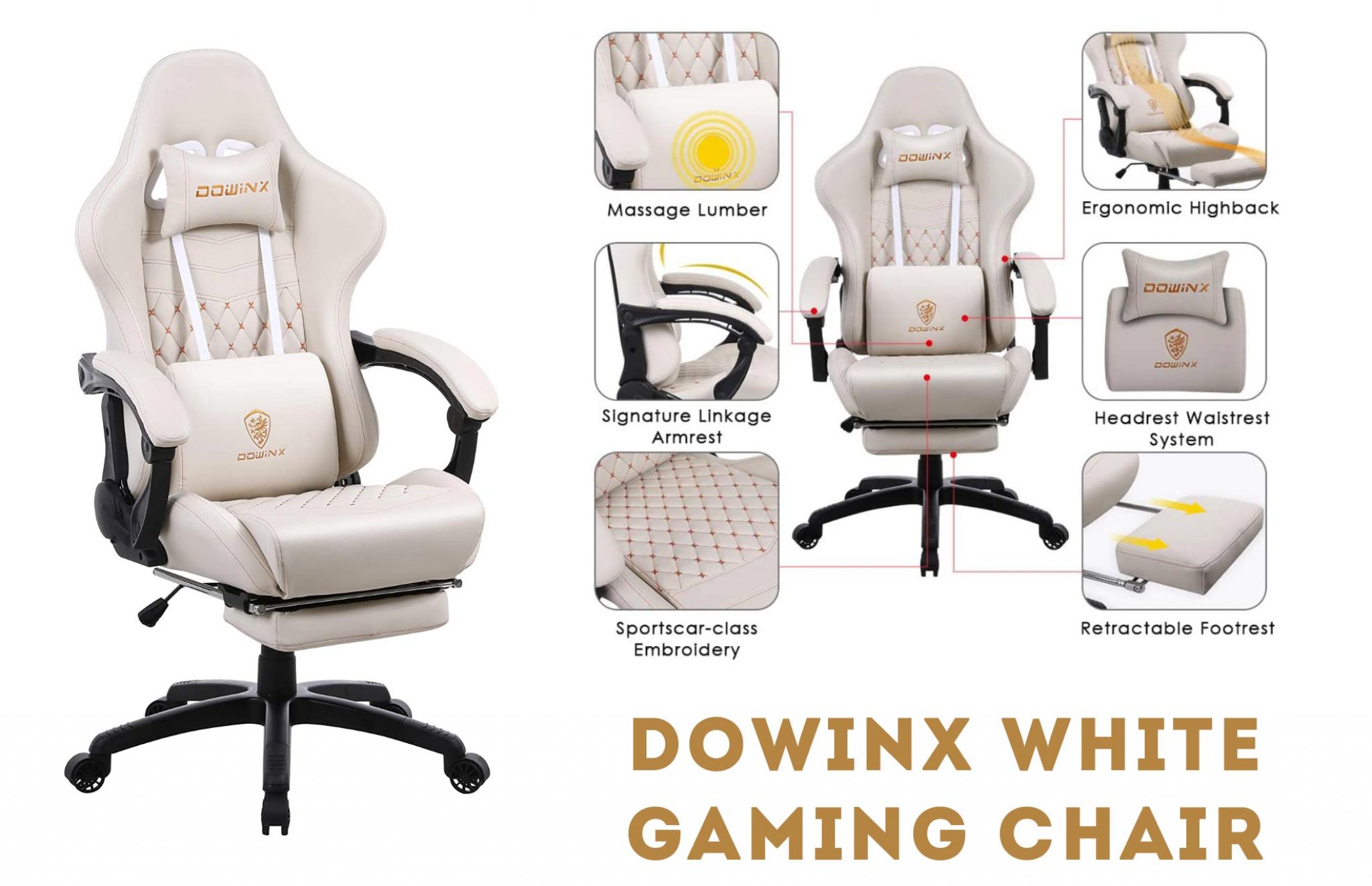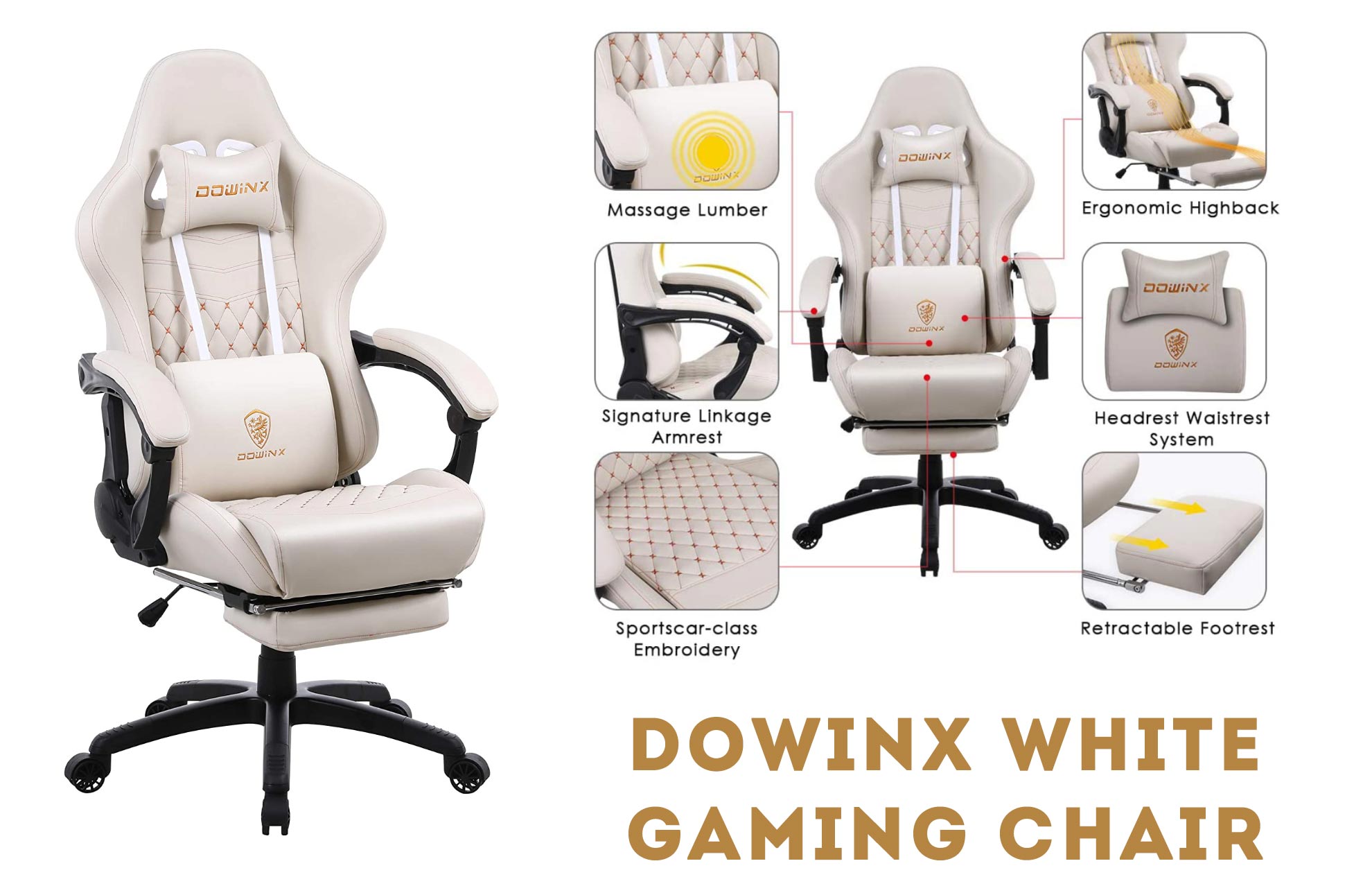 This one looks absolutely luxury. Dowinx might be the best white gaming chair on our list in terms of design and quality. And it's very comfortable too!
If you want a luxurious gaming chair for a fraction of cost, this is it:
Dowinx white gaming chair with footrest has PU leather upholstery which is probably the best material for the gaming chair. You have less chances of getting it dirty and it has a better grip than other materials. Also, a PU leather gaming chair feels more "natural", because you can feel the texture. In addition, I think that it looks more professional and cool with all that first-class embroidery.
High-density shaping foam is firm to support your back while gaming for hours. It will also last longer than usual padding materials.
The armrest also feels soft and makes the gaming experience even more comfortable and enjoyable.
Overall it's a great gaming chair and we definitely would recommend it. Especially if you consider the price.
5. Anchor All White Gaming Chair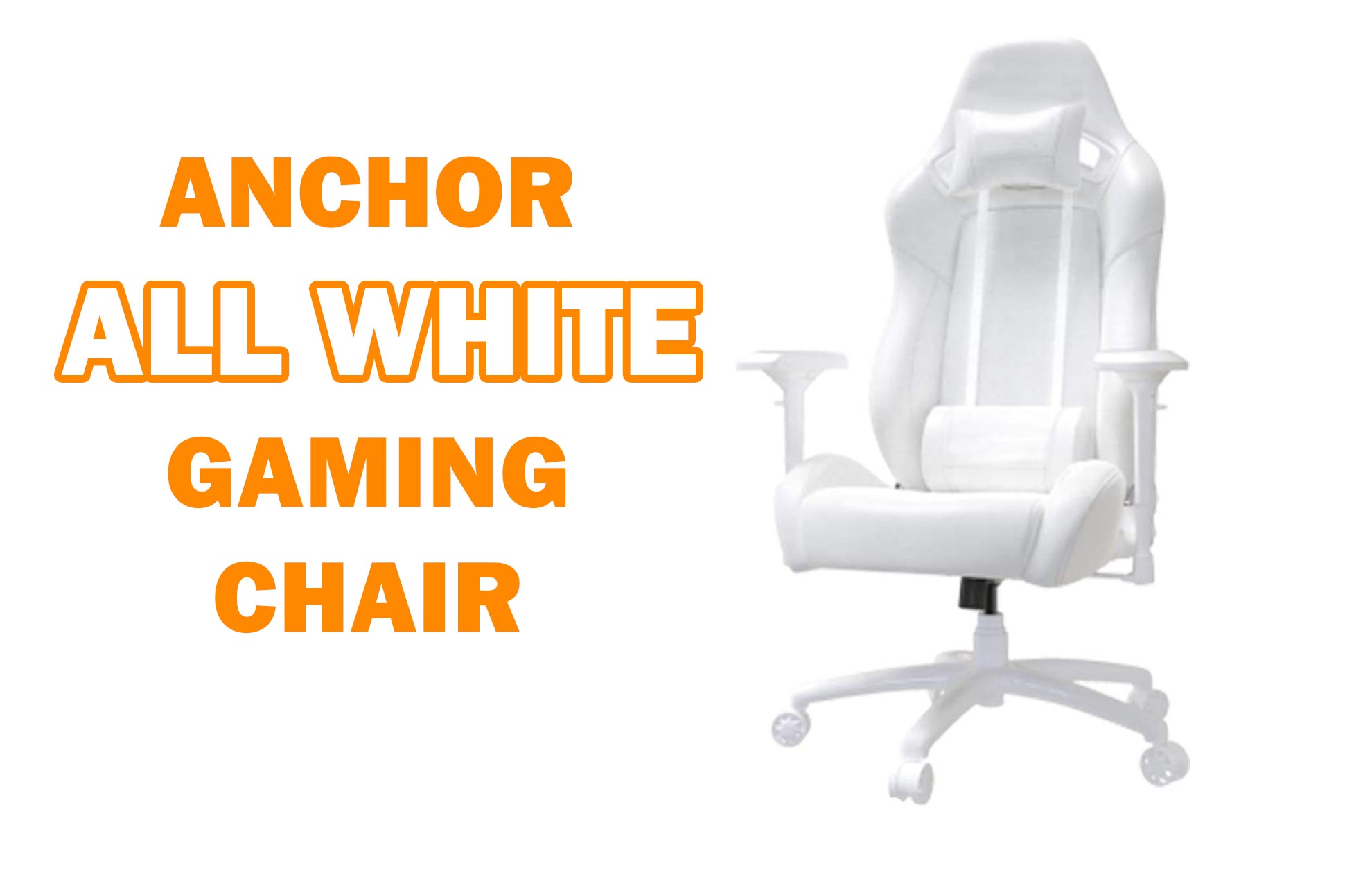 If you were looking for an all white gaming chair, it's the one! Unlike our previous choices, Anchor white gaming chair is really all white, including the headrest and lumbar support pillow and even the wheels! It's worth the price just for the look, but it's not all that it can offer.
We haven't tested it yet, but according to the manufacturer, it can handle up to 300 lbs of weight (136 kilos). The technology behind the explosion-proof chassis has been tested over 100k times. It ensures the quality and durability of the chair.
6. AKRacing Core Series SX – Purple and White Gaming Chair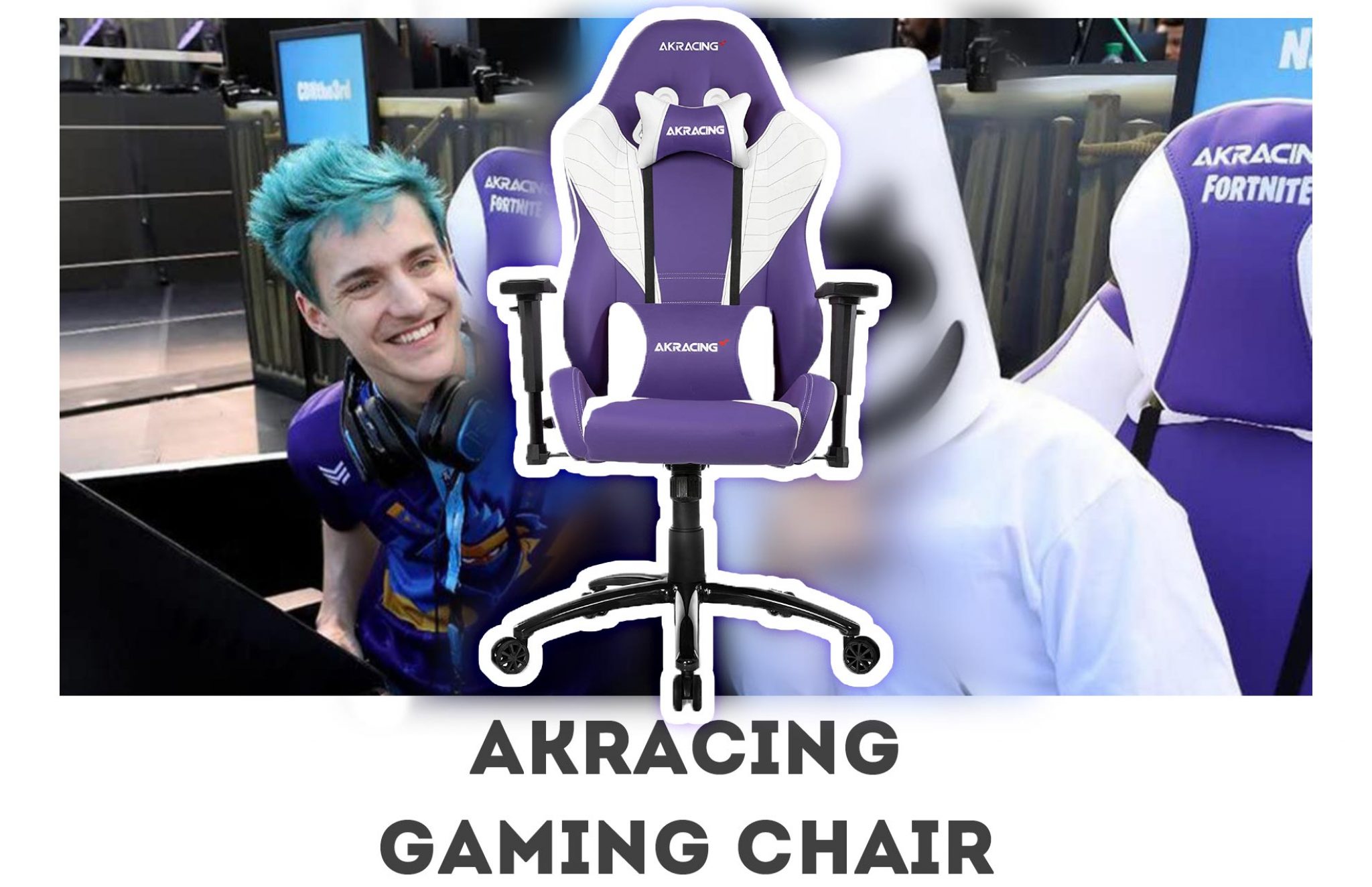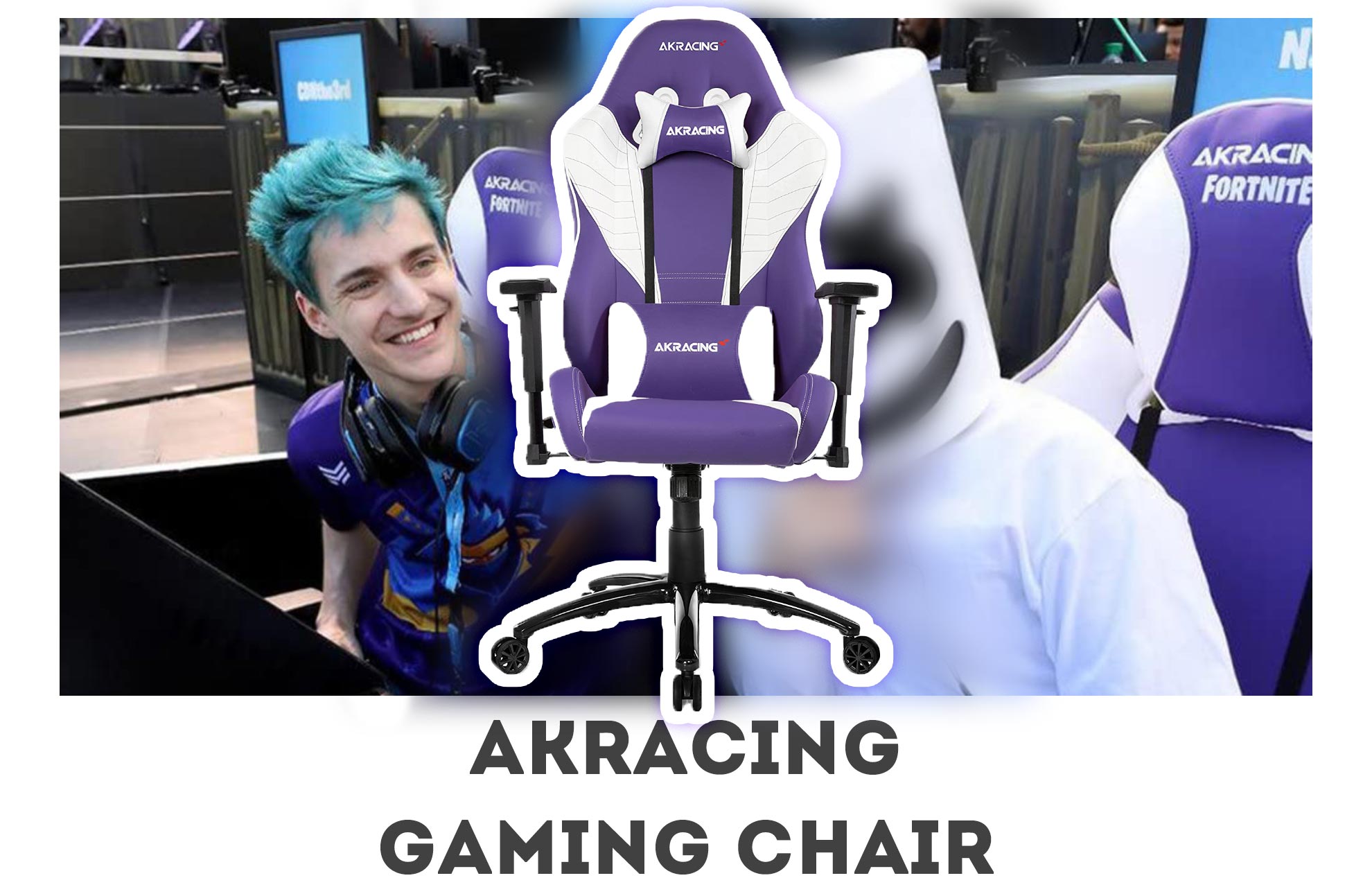 If black and white isn't hard enough for you to find, try to pick a purple and white gaming chair. We managed to find one from AKRacing Core Series.
Not only it has the colors you may need, but it's also a great gaming chair on its own. Here's what we liked about it:
AKRacing purple and white gaming chair is made from steel and has an anti-corrosive coating which makes the whole frame super durable, sturdy, and long lasting. Cold cured foam padding ensures improved comfort during long gaming sessions.
This purple and white gaming chair comes with two cushions. One is for lumbar support and helps to support your back. The other one is a headrest support cushion. Obviously, for neck support. It's really important for your health.
The price on this one is a bit on the higher range. You may check the current price by clicking the link below.
7. Respawn RSP-110 and Autofull – Pink and White Gaming Chair (+ with bunny ears)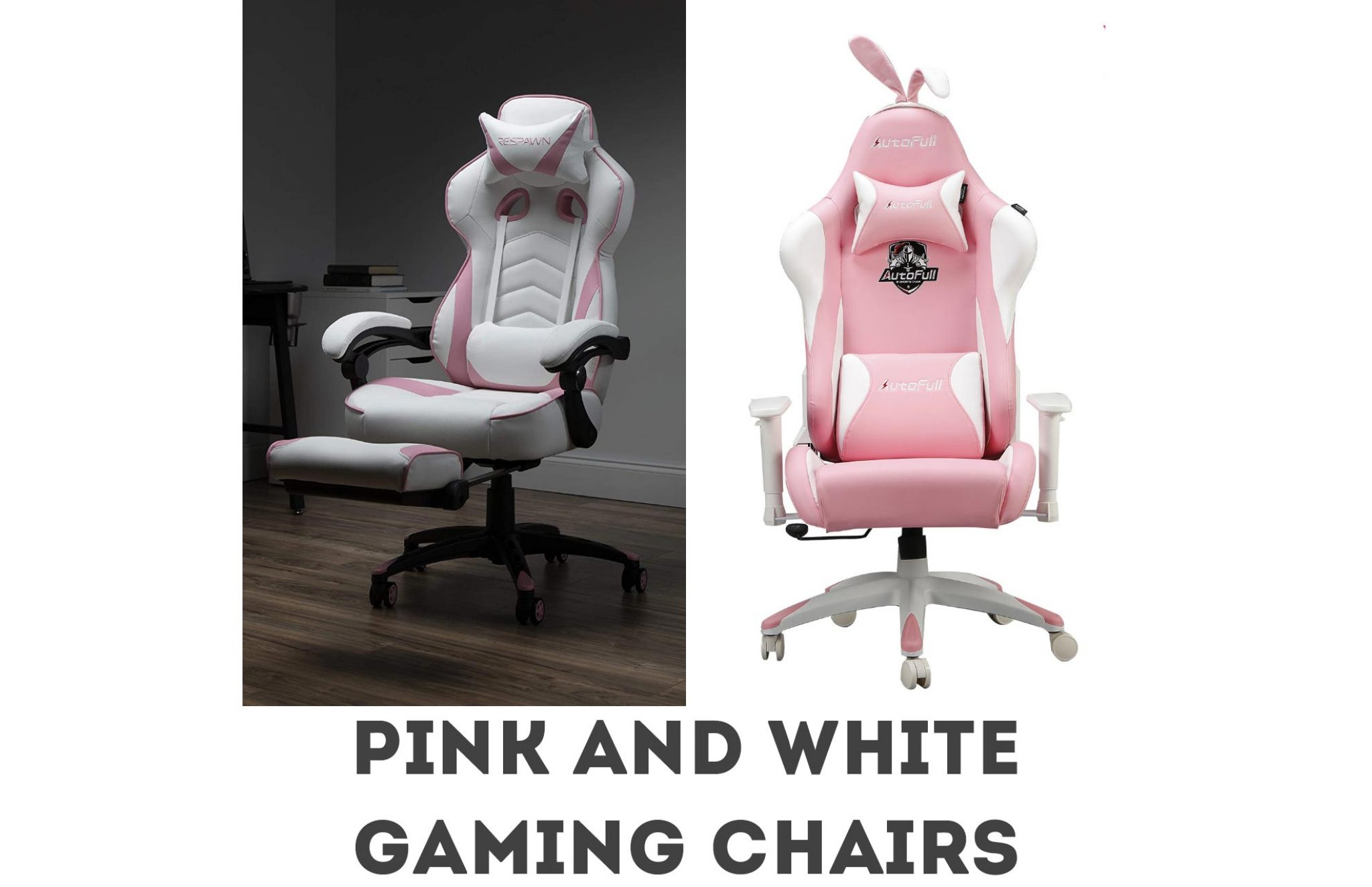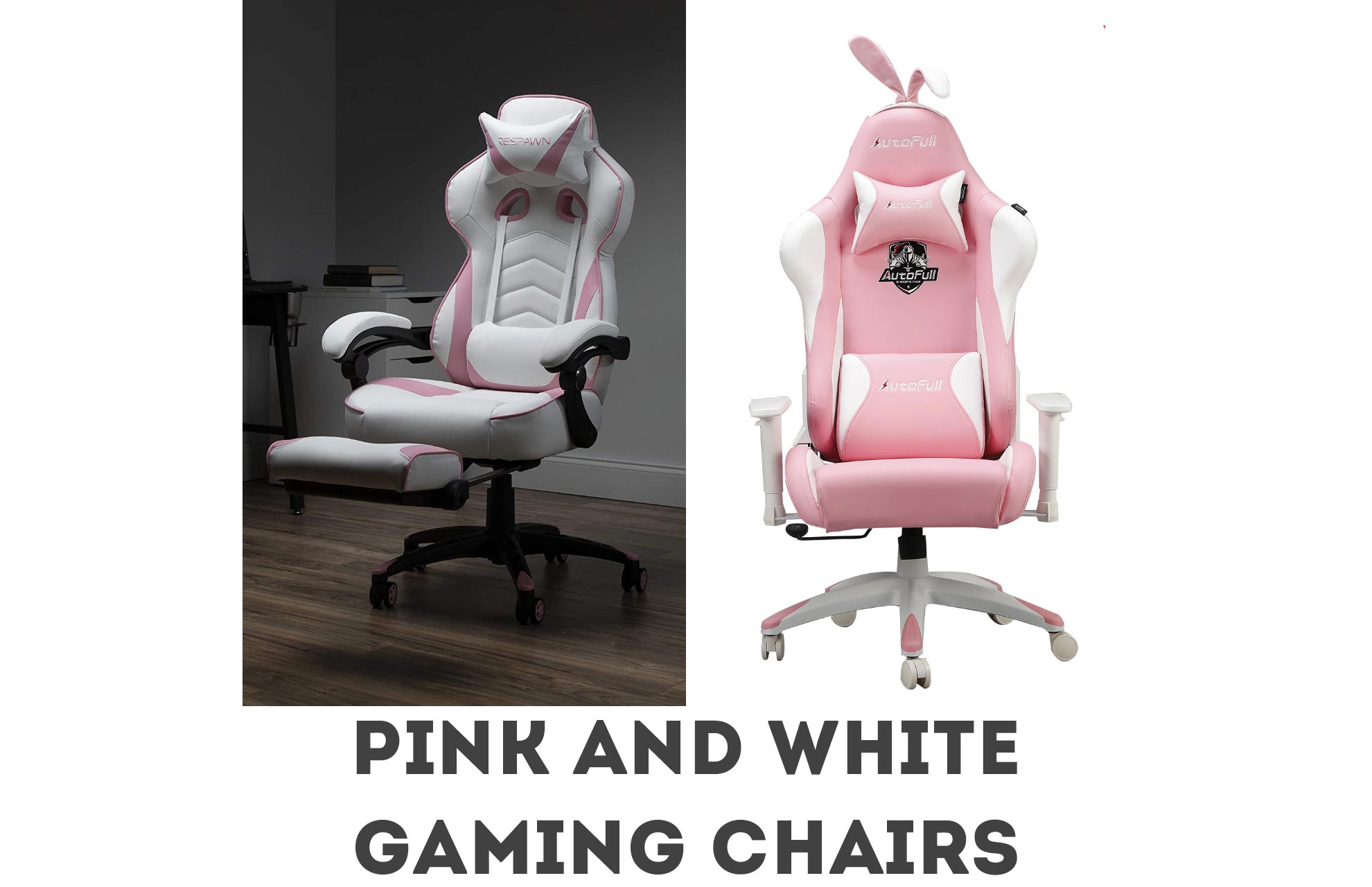 Now, the situation with pink and white gaming chairs is completely different. There are plenty of options since pink is so popular among girls. Different manufacturers, quality, prices, materials, and general look. We tried to choose one best pink and white gaming chair, but we failed. There are too many good pink and white gaming chairs to not tell about them. We picked 4 different models and you decide which one's best for your budget and your pink and white gaming setup.
Now, let's see what we have.
Our number one choice and the best pink and white gaming chair is Respawn RSP-110 reclining ergonomic gaming chair with footrest. Take a look: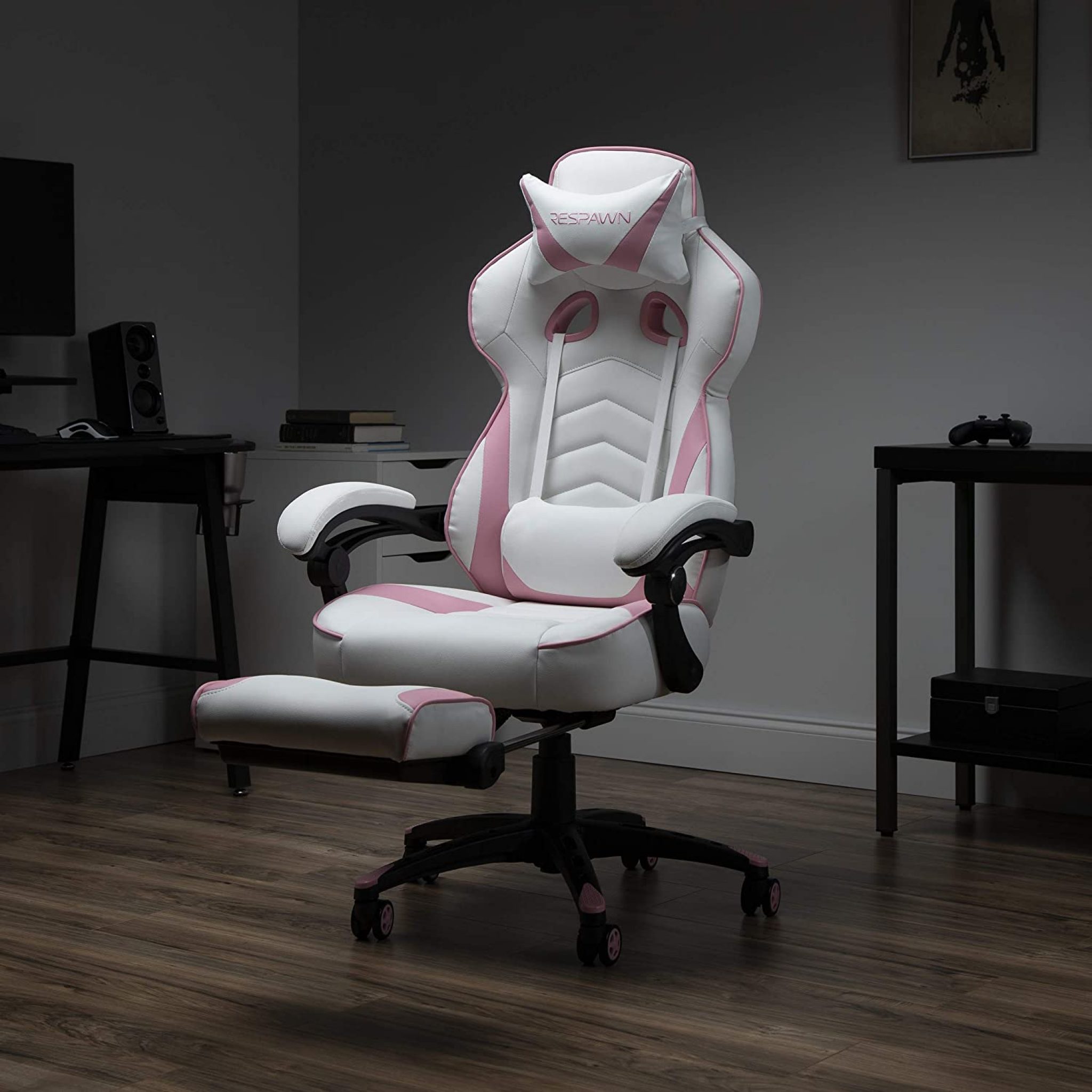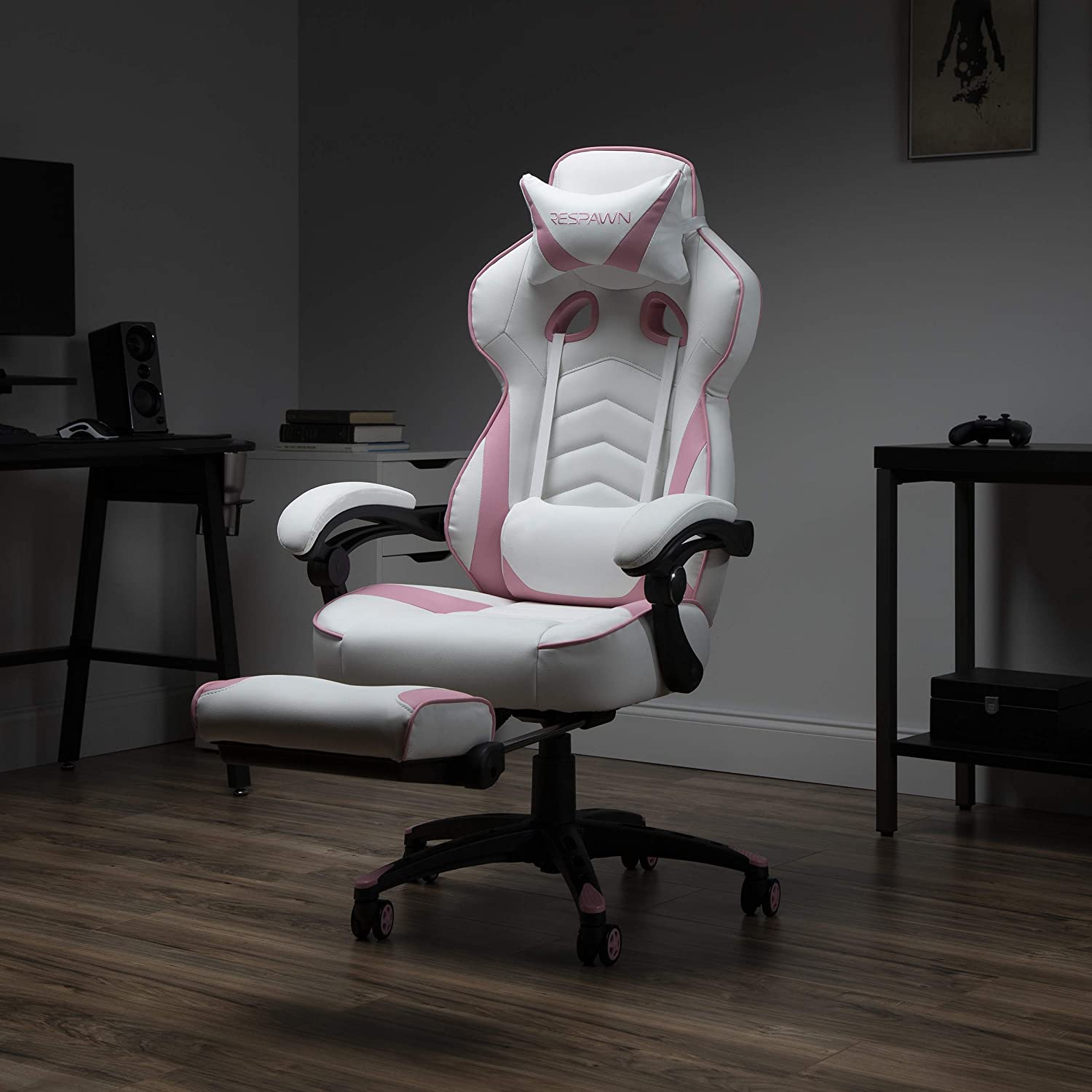 Respawn pink and white gaming chair has everything a gamer would need in terms of functionality and comfort plus an awesome pink and white design.
What we liked about it:
It's easy to assemble. The instructions are pretty straightforward. Even if you've never even tried to do something like this, assembling this chair is very easy. Just follow the pictures in the instruction manual step by step.
The materials feel luxury. It's upholstered with bonded leather and the padding is made of memory foam that makes sitting for long hours extremely comfortable. Armrests are also padded which is not something you often see in the gaming chairs of this price range.
Adjustable lumbar and head support. While this is a "default" feature for any gaming chair, Respawn pink and white gaming chair nailed it the best.
Footrest. If you like to recline in your gaming chair, the footrest is a nice additional feature to provide additional support for a comfortable gaming experience.
Responsive support team. Whatever problems you may have after buying this gaming chair, Respawn support is there to help you solve them.
If somehow you don't want to pick this chair or the budget is too tight, we recommend also checking out other great pink and white gaming chairs. Especially we liked this one with bunny ears: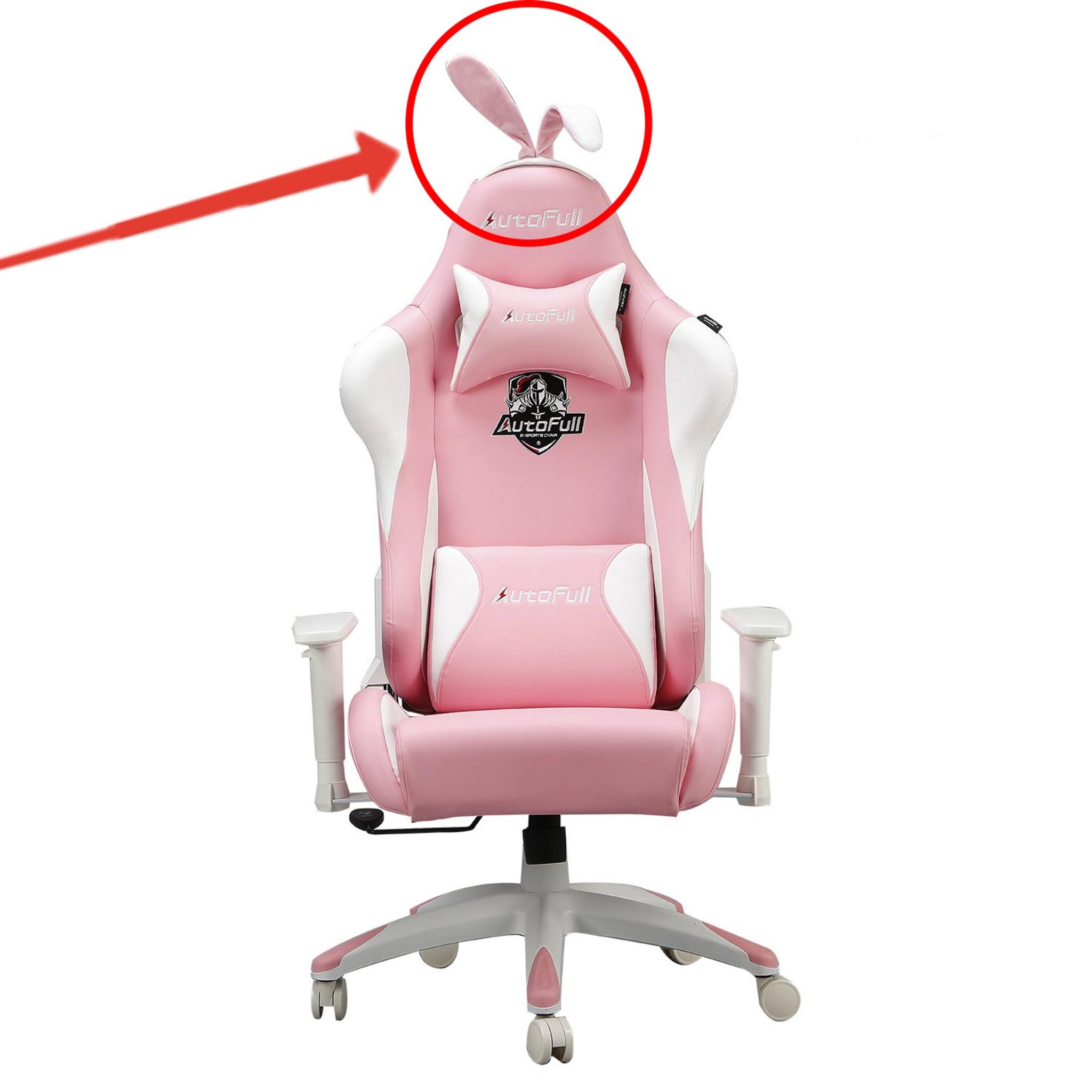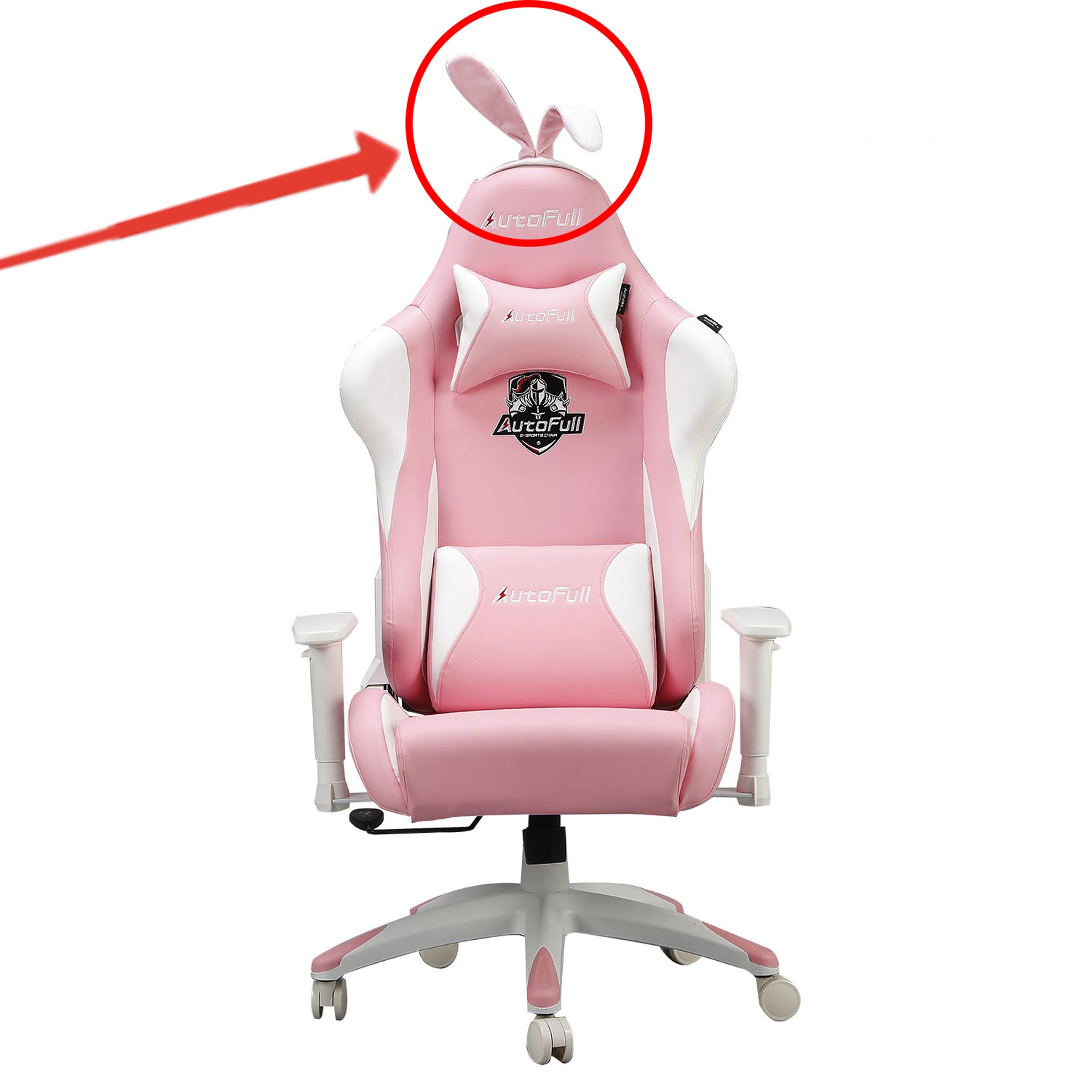 We'll be honest to you, this gaming chair is very similar to the previous one in terms of materials quality, ergonomics, and design. Lumbar and headrest support cushions are also great and feel even better for some. It's a different type of pink and white gaming chairs but it's as good as the previous one. If you feel like this is the one, go for it! Especially considering the lower price tag.
Some other pink and white gaming chairs:
8. AKRacing Masters Series Premium – Black and White Gaming Chair
While custom colors are harder to find, black and white gaming chairs are more common. It's not that hard to find a black and white gaming chair, but did you try to find a good one for a reasonable price?
As many of us gamers know, we play for long hours and need to sit in a position that is comfortable, as well as be at eye level to our monitors. How many times have you ended up with a massive back ache or a sore neck because the chair you are sitting on is not ergonomically designed for gaming? This features comes with an exclusive design made specifically for gamers.
The material is smooth and soft like a pillow. It was specifically designed to mold to your body's shape, which will help with spinal alignment, making it more comfortable to game for hours.
Adjustable headrest and lumbar support pillows. If your position is correct, you should not feel any pain, and that is what this feature is there for! You can adjust it based on your height, size and liking. Adjusting the height allows you to raise your head without leaning forward towards the monitor or lowering your chair (so you are too high or too low). Adjusting the pillows allows you to lean into them if needed, which might provide additional comfort that relieves some pain in your lower back or neck.
A well-constructed steel frame, strong yet elegant is the first thing that comes to mind as one looks at the AKRacing gaming chair. The sturdy steel frame is made of high-quality steel, so it has the strength to support heavy weights. It has a class 4 gaslift with 330 pounds capacity and is suitable even for large guys or girls.
9. Hommal Racing – Blue and White Gaming Chair
With all those great but expensive gaming chair brands it's not that easy to find and affordable one. Especially when you're looking for something custom designed, like blue and white gaming chair. We tried and managed to find a chair that would have the needed colors, feature great functionality and still stay on the lower price range.
It's the Homall S-Racer blue and white gaming chair. It is a perfect model to add a touch of luxury and comfort to your space, whatever it may be.
10. DXRacer White Gaming Chair
We'll start from a pretty popular gaming chairs manufacturer – DXRacer. While most of their models are black with custom colors, we managed to find a great and affordable gaming chair that wouldn't break the bank and would look good in an all white gaming setup.
It's a black and white gaming chair from the DXRacer Racing series. As all gaming chairs from this series, it has a cool ergonomic design that would fit in any black and white gaming setup.
The whole body is made of steel which makes the chair sturdy and long lasting. The seat has double cushions which provide perfect comfort for a longer duration.
This DXRacer branded chairs come with full headrest support which is very good for your neck and back. The backrest is big enough to keep your lower back rested without causing any discomfort at all.